The French called the site "Pompey's Pillar" from mistaken impression by mediaeval travelers who believed he must be buried here, and that the capital atop the corner served as a container for his head.
This column of red Aswan granite with a Corinthian capital, standing on a badly ruined substructure and rising to a height of almost 90 feet with a diameter of 9.5 feet.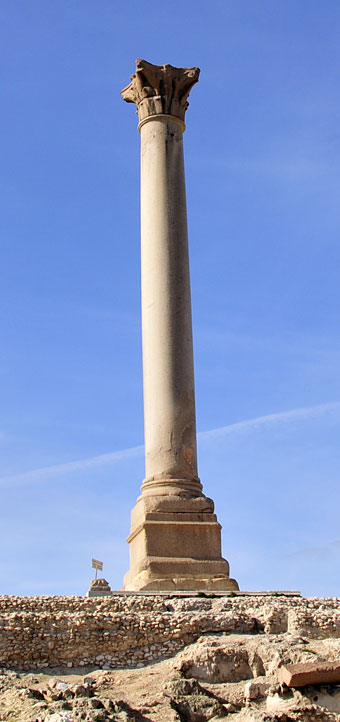 It was actually erected by the Roman Emperor Diocletian in 297 BCE.
On the western side of the column is engraved, "To the just Emperor, the god of Alexandria, the invincible Diocletian."
Emperor Diocletain re-captured Alexandria, after quelling a revolt by Domitius Domitianus.
Here is our most excellent tour guide for the day, Akhmed.
photography by Janice
Nearby are subterranean galleries where sacred Apis bulls were buried, and three sphinxes from the ruins of the ancient and famous Serapeion (Temple of Serapis).
Many other statues that were unearthed elsewhere have been moved here for display. Most date from the Ptolemaic Period.