We arrived on the former military base as the first visitors.
The group went inside while I, having seen enough dark stone holes, remained outside, avoiding the predacious guards and making photographs of the red splendor.
The Red Pyramid, was constructed by Sneferu, the founder of the Fourth dynasty of Egypt, reigning from around 2613 BC to 2589 BCE.
He built at least three Pyramids (Maidum, Bent & Red), and was well known in Ancient Egyptian times but is overlooked in modern times.
The Red Pyramid is 341 feet high and is built at the same shallow 43 degree angle as the upper section of the Bent Pyramid, giving it a noticeably squat look compared to other Egyptian pyramids.
Named for the light crimson hue of its exposed surface it was not always red. During the Middle Ages much of white Tura limestone was taken for buildings in Cairo, revealing the reddish, pinkish core.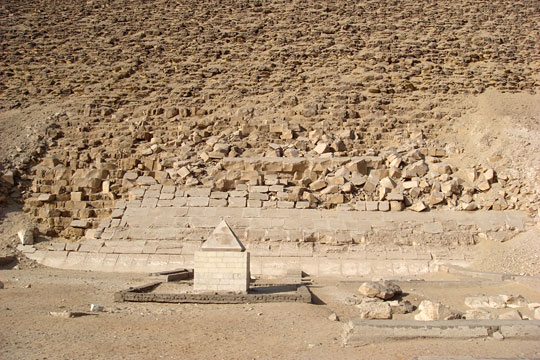 photography by Ruth Shilling
Here are the remains of the temple on the pyramid's east face. This rare pyramidion was found on the site and may have capped the original structure.
It is believed, by some, to be the world's first successful attempt at constructing a "true" smooth-sided pyramid.